Thinking about becoming Catholic or want to prepare for a sacrament?
If you are an adult interested in discovering more about the Catholic Church, its beliefs,
and growing in your own faith and understanding,
then you are invited join our OCIA process, a journey of faith.
What is the Catholic Church?
We invite you to learn more about the Catholic faith and begin a journey that will lead you to a deeper understanding of the Church, its beauty and its mystery.
The Order of Christian Initiation of Adults (OCIA) is a process designed to help non-Catholics and non-practicing Catholics learn about the Catholic faith and way of life through a series of classes, discussions, and prayer. It seeks, however, to do more than simply give interested persons information. Becoming Catholic means entering into relationship with Jesus Christ and His community of God's people. Our belief is that you will enjoy a deeper relationship with God as you become acquainted with members of Sacred Heart Church and the Church throughout the world.

It is a journey that takes place within the Catholic community as we, the Church, help and guide you through five phases of formation:
THE OCIA JOURNEY:
FIVE PHASES WITH THREE KEY MOMENTS OF CELEBRATION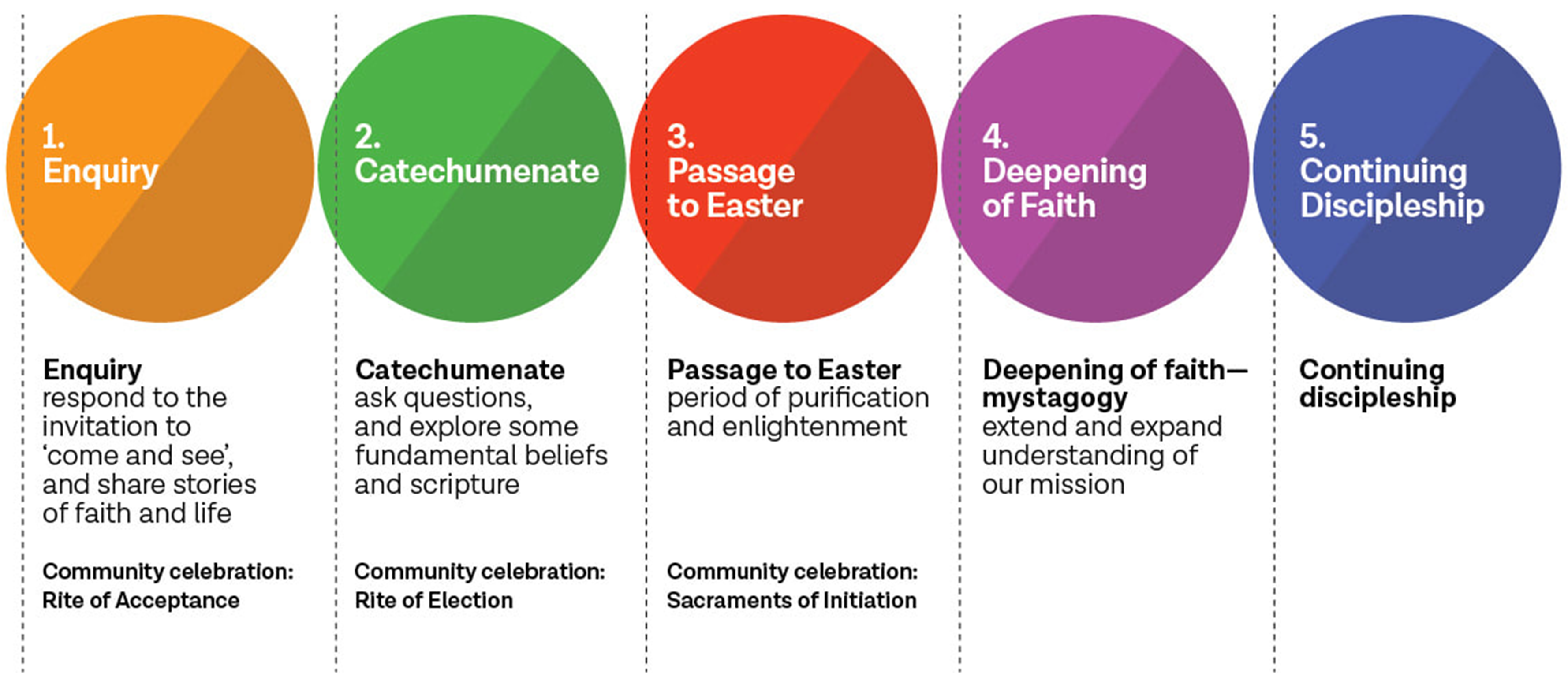 During these periods, you will learn about the Sacraments of the Catholic Church, its ancient historical roots, and its rich and beautiful traditions. At the end of each period, you will participate in a community-celebrated rite, signifying a continuation in the process of initiation into the Catholic Church which ultimately leads to a life long journey of discipleship.
Each person's OCIA journey is unique. Undoubtedly you will notice how your life experiences and beliefs have brought you to this point as you listen to God's invitation to explore the Catholic faith. At the same time, members of the parish are praying for you, attending sessions with you, and sharing their own life stories as followers of Christ in His Church.
If you're interested, apply!
There's no commitment to the process and we'll learn more about one another in the interview process.
We are looking forward to getting to know you!
To Apply for the 2023-2024 OCIA Sessions
Start Date: 09/13/2023
End Date: 05/15/2024
Weekly Wednesday Sessions
6:30 PM - 8:00 PM
Salta Center Rm 333
No fee to register; donations welcome
Contact information is below if you're interested!
For more information, contact us: