Public Art in the Parish Plaza- The Messengers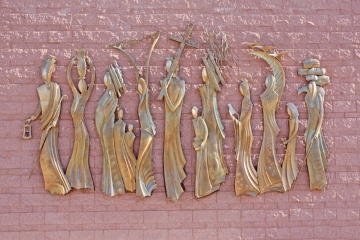 Thursday, April 29, 2010 marked the long awaited installation of The Messengers, a monumental wall sculpture created by Borrego Springs artist, John Richen. Hand crafted out of welded and hammered bronze, The Messengers measures 17 feet in length by 10 feet at its highest point and depicts a group of messengers who represent the continually connected generations of humanity on a perpetual journey through time to carry the message and mission of Christ out into the world. The bronze figures individually and collectively reflect and carry symbols of our faith all the while being led by the light of the Sacred Heart.

To fulfill our commitment to the City of Palm Desert's Public Art Program, The Messengers was selected through an open call to artists' competition process that began in January of 2009 and was paid for with monies collected through building permit fees paid to the City of Palm Desert dating back to February of 2004. In total $40,000.00 was attributed to Sacred Heart's account for an artwork to be installed on our property at the conclusion of construction.

We wish to thank the members of the selection committee, Alan Bruzzio, Michelle Cosgrove, Maureen Martin, Angela Martinez, Peg Nugent, Patti and Tim Sullivan and Javier Triviso, who contributed their time and talent towards this process. Upon reviewing submissions from 15 artists, two finalists were selected to develop specific proposals for consideration. The finalists met with the committee in a discussion roundtable in order to get a better understanding of our parish community as they developed their conceptual ideas and renderings. The project was awarded to John Richen and City approval was given at the general council meeting on October 8, 2009.

A special thank you to artist, John Richen for his passion and commitment to this project and for sharing his unique vision with our parish community.